Highly skilled Curtain Cleaners In Canberra
We know that curtains are a really important part of your home. You need to maintain their shine and beauty by cleaning them on time. Ping Shine Cleaning Services, we have the best curtain cleaning team. There are so many reasons why you should hire our Curtain Cleaning Canberra team to provide a high quality service.
The main reasons are:
We deliver high quality service with the help of certified as well as licensed curtain cleaners.
Our service rates are very low and reasonable.
You can contact us 24/7 to get curtain cleaning services.
We clean the curtains using the best quality tools and cleaning solutions.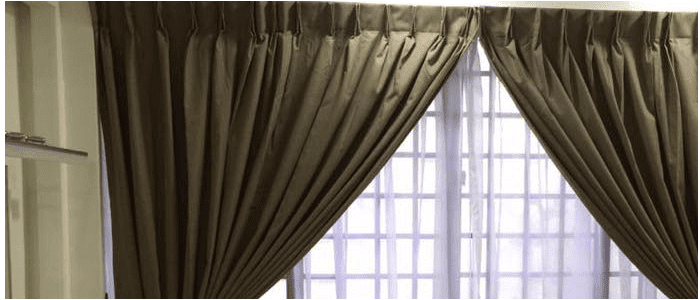 Why Is Curtain Cleaning Important?
Curtains not only enhance the beauty of your home, but also act as a medium to protect your home from dust, harmful sun rays, and germs. Curtains protect you from various lung diseases and inflammatory reactions too.
A large number of the population suffers from respiratory diseases and dust is one of the reasons. It is widely noticed that the inmates do not pay much attention to curtain cleaning and as a result, invite various problems such as sneezing, coughing and breathing problems.
Dirty curtains are also a put-off to the visitors visiting your house. Dust particles may not always be visible to the naked eyes but when the curtains are soaked in dust they tend to turn blackish or become dull; when that happens you should pay heed to the alarming call and avail of our services.
Here Are A Few Convincing Reasons As To Why You Should Get Your Curtains Cleaned Periodically:
Welcome guests with confidence
To feel comfortable and have a serene ambience
To ensure your peace
Stay away from allergies and other diseases
Keep away from breathing problems
Our Curtain Cleaning Canberra Process
Our Professional Curtain Cleaners Adopt A Skilled Approach While Cleaning Your Curtains.
Pre-inspection: We conduct a pre-inspection of the curtains to acknowledge the damage done to the curtains. We then share our findings with you to keep you in light.
Curtain Pre-Clean Vacuum: We start the curtain cleaning process by conducting a thorough clean up using an industrial strength vacuum cleaner.
Spot Cleaning: In this step, we recognise stubborn spots, marks and stains. We use a suitable solution to clean all the spots.
Curtain Dry Cleaning Or Steam Cleaning: We make use of various eco-friendly dry cleaning agents to deal with sophisticated fabrics. And we use curtain steam cleaning for curtains that are made of heavy materials. Our skilled cleaners know the safe distance at which the appliance should be kept from the fabric to prevent it from getting too wet.
Hot Water Extraction: This method helps in extracting 95% of the dirt from the fabric. This method is highly adopted on curtains with gentle fabric.
Curtain Drying: Whatever we do is known to our customers so that they too can be in touch and feel connected. Adding to this, we do not keep you waiting for the delivery but take the shortest time possible.
It is our goal to keep our customers happy and satisfied to ensure a healthy relationship in the future as well. Shine Cleaning Canberra ensures that the quality of the order we receive is not compromised or damaged. We use efficient methods so that the toughest dust particles can be removed from your curtains.
Fast and Efficient Curtain Cleaning In Canberra
We bring to you curtain cleaning services at pocket-friendly rates. Also, our cleaners and skilled employees, provide you same-day curtain cleaning services. Your house need not look empty without your curtains and you can have them back on the same day without waiting much. In addition, we provide a large number of services such as mattress cleaning, carpet cleaning, end of lease cleaning amongst others so that, your time is not wasted looking for other cleaning services. You can give us a call and we will fix a cleaning session at the earliest.
Curtain Steam Cleaning Canberra
Our cleaners at Shine Cleaning Services offer the best curtain cleaning services in Canberra. The team of our curtain cleaners gives both onsite and offsite curtain steam cleaning services. We use the best techniques in the industry along with the best cleaning solutions to make your window covering clean, bright, and shiny once again. Our team gives attention to every specific detail provided by the homeowners and carries out the results in a specific manner. So, call us today and get the best services for curtain steam cleaning.
Curtain Dry Cleaning Experts
Curtain Dry cleaning is the best way to deal with a dirty and unhygienic curtain, our company is an age-old company. We have served many clients with our quality services, we own all the supplies, cleaning machinery and expertise to do the curtain cleaning properly. The best-in-class curtain cleaning team who's skilled and hard-working, do their job with proficiency. They have relevant experience in providing curtain dry cleaning service, if you're also looking to have our curtain dry cleaning service, contact us on our toll-free number 0481615461, we will be happy to serve you.
Why Choose Shine Cleaning Services?
Shine Cleaning Services in Canberra is here to take the burden off your shoulders and is happy to help with its excellent cleaning services!
We are an expert curtain cleaning service provider in Canberra and are known for delivering excellence. What separates us from others is that we are quick, professional, and work hard to return our curtains to their original state.
Here are just a few of the many reasons why you should hire us:
We can clean your drapes, curtains, and blinds while they are still hanging
Clean your rubber backed curtains
No discoloration and shrinking
Also help you in removing mould from your curtains
We do the taking down and rehanging of your curtains
Domestic and commercial curtain and blind cleaning
Same day and emergency curtain cleaning services
Available 24×7 for curtain cleaning
Licensed and certified cleaners
We use only eco-friendly cleaning solutions
Locals of Canberra
We Highly Recommend To:
Take accurate measurements of the length and width to avoid any misunderstandings concerning shrinkage of your drapery after cleaning;
Note down any damages to the fabric of the drapery including stains and defects;
Discuss any special care requirements you want us to observe or any that are mentioned on the label;
Take note of the tassels or tie backs that are accompanied by the drapery.
Point out any risks associated with particular types of materials;
Agree on the cost of drapery cleaning.
Shine Cleaning Canberra revitalizes and rejuvenates your dull and shabby curtains with perfection. Talk to us today.
Get Our 24/7 Expert Service For:
Curtain Cleaning Canberra
Reach Here
Location: Canberra, ACT, Australia